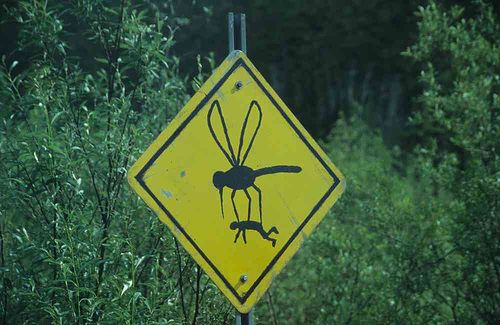 It's mosquito season and I for one hate rubbing DEET all over myself, not to mention my kids. And jumping in and out of the pool, the sprays can't stay on anyway. The other common choice, Citronella in the form of candles, is a little less gruesome because it's not all over me, but for that same reason, it's not as effective. But there is a third solution that isn't stinky or greasy and is even more effective because it deters the bugs for the season not just the day. What is it? Well, the best way to ramp up your repellent is to plant it, and just because the mosquitoes hate these plants, doesn't make them repellent to humans. In fact, there are some beautiful and useful options.
Before I get into the list, it's worth mentioning that any standing water areas (especially stagnant water, like old fountains, old planting pots, etc.) are like the Hilton of Mosquito World. Get rid of water as much as possible before starting your planting war against bugs.
1. Catnip
Catnip has been found to be ten times more repellent to the bugs than DEET! The essential oil in the catnip is the same oil that attracts cats and drives them bonkers! Luckily it's not so potent that you'll end up with no mosquitoes, but the whole neighborhood's cat population in your yard! To drive the cats crazy you need to smash the leaves (store bought catnip is dried leaves crushed). Strangely, catnip is a butterfly and bumble bee attractor, so you get the best of all worlds with this plant.
Catnip is good to grow in Zones 3 and 4, so for those of us in the south, catnip will only survive if we plant it in pots and keep it somewhat shaded and watered. If you are growing from seeds, keep cats away until it's hardy enough to withstand being rubbed!
2. Rosemary
Rosemary can grow into massive bushes with pretty purple flowers. It's hardy, but doesn't like being in cold weather or inside, which makes it perfect for summer bug season. Keep it near the barbecue and it can work double duty by seasoning your meat (Lamb and rosemary skewers anyone?) and keeping you bug bite free too!
3. Lemon Balm
Lemon Balm is not quite as pretty as Rosemary (it looks kind of weedy, a little bit like mint), but it gives off a lemony scent (who'da thunk?) that is sweet and not too strong… and mosqitoes seem to hate it! There are a ton of different recipes using lemon balm so it's just as useful as rosemary. This lavender lemonade recipe sounds so good after a day of lying in the sun or lazing by the pool.
4. Thyme
Thyme is a Mediterranean herb, loved in Greek food and this idea alone conjurs up images of Santorini with cool breezes and tomatoes with feta cheese drenched in oil and vinegar. Nowhere in my imagining is there a mosquito biting my ankle.
Thyme does have a pretty scent which is a little stronger than the previous plants I mentioned, so you might want to use it sparingly, or plant it further away (think perimeter of your property) with the previous plants closer to your home. Yet again, thyme is a hardy plant. It likes warmer weather and full sun (all of these plants are perfect for summers, but may not last the winter in a colder climate.)
Thyme is pretty – it looks like lavender with little purple flowers.
5. Garlic
Mosquitoes are vampires, vampires hate garlic therefore mosquitoes hate garlic. That's logic right?
Garlic is not necessarily the prettiest of plants, and is probably the hardest to grow out of this list, but it has more health benefits and possibly more use than any of the others too.